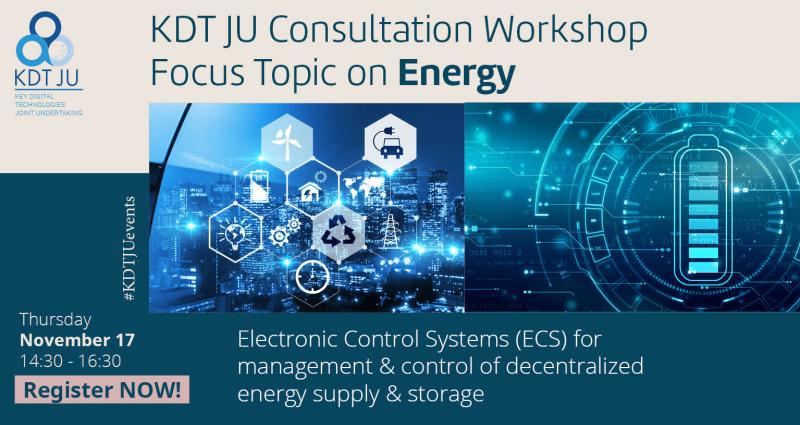 17 Nov 2022
Consultation Workshop on Energy – KDT JU-s Focus Topic Call 2023
KDT JU invites energy industry professionals and experts to join the virtual Consultation Workshop taking place on the 17 of November 2022.
In line with KDT JU 2023 Call, the Workshop will provide an overview of the Focus Topic on Energy, and present projects on Electronic Control Systems (ECS) for the management & control of decentralized energy supply & storage.
More specifically, the Workshop will discuss Electronics for the management of small scale energy systems (nanogrids, microgrids, local energy communities) and how to optimize the use of decentralized renewable energy sources. The experts will also explore different energy storage concepts (and their combinations with each other), which type of storage can balance and cover better temporal fluctuations (hours, days, months), taking in consideration as well different applications and types of energy (electrical, thermal, chemical).
The Workshop (2 hours) will first present the Focus Topic on Energy, projects and use cases of interest, as well as Clean Hydrogen JU's activities in this area. The second part will give the floor to participants for discussing new ideas and topics to be considered for KDT JU Call 2023.
Participation at the event is free of charge, but registration is compulsory.
Agenda:
Thursday 17th November 2022 (14:30 – 16:30) – Online
(Full Agenda will follow)