30 Apr 2020
Alongside the announcement by the European Commission of a new industrial strategy including the support to  the development of key enabling technologies that are strategically important for Europe's industrial future, a specific EU SME Strategy for a sustainable and digital Europe was announced by Thierry Breton, European Commissioner for Internal Market, on 10 March 2020.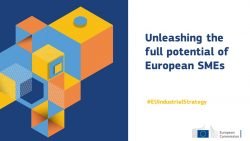 Considering that Europe's 25 million small and medium enterprises (SMEs) are the backbone of the EU economy that bring innovative solutions to challenges like climate change, resource efficiency and social cohesion and help spread this innovation throughout Europe's regions, this new strategy put forward actions based on the following three pillars:
Capacity-building and support for the transition to sustainability and digitalisation;
Reducing regulatory burden and improving market access;
Improving access to financing.
To view the factsheet on unleashing the full potential of European SMEs, please click here.